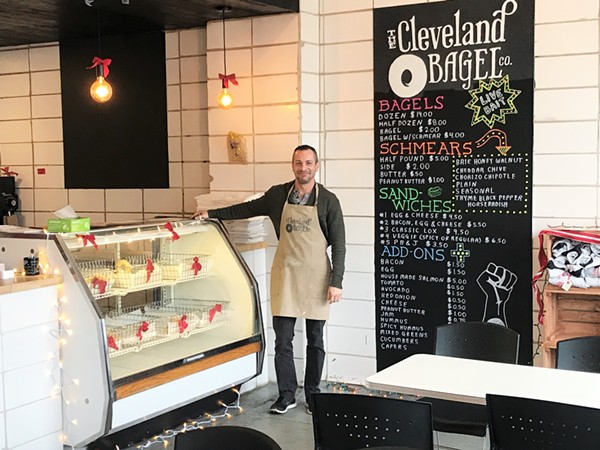 by Douglas Trattner (for Cleveland Scene)
It's been four and a half years since partners Dan Herbst and Geoff Hardman peddled their first homemade bagel at the Gordon Square Farmer's Market. Since then the bagel boys have moved production from Herbst's apartment to Cleveland Culinary Launch and Kitchen to rented space at Ohio City Pasta and finally to their current home, a production facility and retail storefront in Ohio City, which they launched with help from investor Alan Glazen.
Next up for Cleveland Bagel Co. (4201 Detroit Ave., 216-600-5652) is an East Side facility that will closely mirror the one-year-old shop in Ohio City. The new production facility and retail shop will assume roughly 2,800 square feet of a massive 140,000-square-foot warehouse on Carnegie Avenue at E. 77th. That facility also is home to Souper Market and Produce Packaging. A dedicated parking lot will make it easy for busy commuters to stop, shop and roll.
Herbst says that his best estimate for an opening is late spring or early summer.