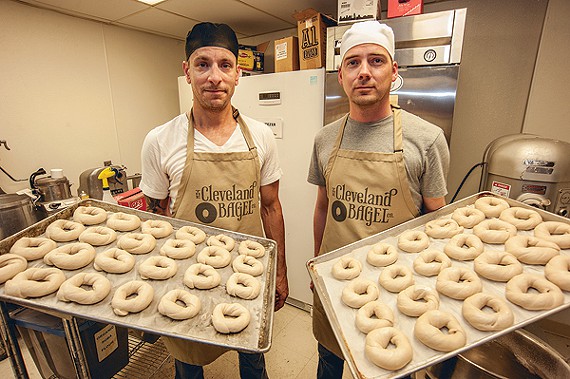 As seen in: Cleveland Scene, Photo by Frank J. Lanza
It's been three and a half years since partners Dan Herbst and Geoff Hardman peddled their first homemade bagel at the Gordon Square Farmer's Market — and that bagel truly was homemade, fabricated as it was like all the rest back then at Herbst's apartment.
This past fall the duo opened a production facility and retail storefront with the help of partner Alan Glazen, whom the pair met while filming Cleveland Hustles. Since the beginning, the goal of Cleveland Bagel Co. has been to produce the best-tasting bagels that money can buy while building a local business that lives up to the "Cleveland" brand.
"One of the greatest assets of Cleveland is its people," explains Hardman, a former software guy. "We have been afforded so many opportunities from people like Gary Thomas of Ohio City Pasta, who let us work out of his kitchens. This isn't rocket science. We have a company that can train anybody, so why not train anybody? We can hire the people that maybe others wouldn't."