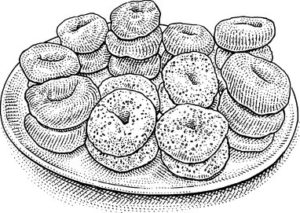 As seen on the front page of the Wall Street Journal
CLEVELAND—New Yorkers are brash champions of their bagels. Montrealers politely insist theirs are best. But there may be a bagel that is better than both in a place that isn't used to bragging about itself: Cleveland.
The bagel comes from the kitchen of the Cleveland Bagel Co., which is barely a kitchen at all. It is the backroom of a local pasta shop. That is where 300 dozen bagels are rolled every week by a former warehouse employee and a software executive without any hint of experience.