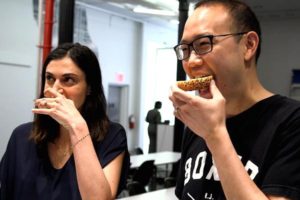 As seen on CNBC, Photo courtesy of CNBC
Death, taxes and the supremacy of New York bagels.
There are three certainties in life — or so we thought.
On the latest episode of CNBC's reality business show "Cleveland Hustles," the owners of the Cleveland Bagel Co. flew out to the Big Apple to debunk everything we've ever known about boiled and baked circles of dough.
Bonin Bough, host of "Cleveland Hustles," facilitated a meeting with Chieh Huang, CEO of Boxed, and Elyse Burack, the company's senior marketing manager.
The goal was to impress them in a taste test and secure a national distribution deal with the bulk wholesale shopping company. It would be a massive growth step for Cleveland Bagel.