Purchase Pregabalin Buy Pregabalin online usa buy Pregabalin Where to buy Pregabalin online Pregabalin buy from uk Want to buy Pregabalin How to order Pregabalin Buy veterinary Pregabalin Mail order Pregabalin Buy Pregabalin online
As seen in: Cleveland Scene, can i order Pregabalin online
It's been three and a half years since partners Dan Herbst and Geoff Hardman peddled their first homemade bagel at the Gordon Square Farmer's Market — and that bagel truly was homemade, fabricated as it was like all the rest back then at Herbst's apartment.
This past fall the duo opened a production facility and retail storefront with the help of partner Alan Glazen, whom the pair met while filming Cleveland Hustles. Since the beginning, the goal of Cleveland Bagel Co. has been to produce the best-tasting bagels that money can buy while building a local business that lives up to the "Cleveland" brand.
"One of the greatest assets of Cleveland is its people," explains Hardman, a former software guy. "We have been afforded so many opportunities from people like Gary Thomas of Ohio City Pasta, who let us work out of his kitchens. This isn't rocket science. We have a company that can train anybody, so why not train anybody? We can hire the people that maybe others wouldn't."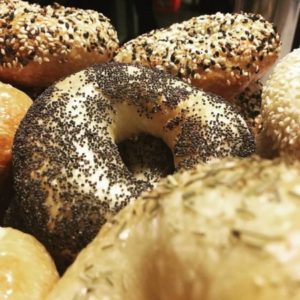 As seen in: The Plain Dealer / cleveland.com
CLEVELAND, Ohio — Barbecue and hot pot made a splash, and the LeBron James-produced television show, "Cleveland Hustles," gave us new eats. There's been no shortage of places to explore since we last filled you in on recent additions to the food scene. From fast casual to markets and cafes to upscale dining, the last year has seen the openings of plenty of new options for Cleveland food lovers.
And don't forget the drinks. Hansa Brewery's long-awaited opening graced Ohio City, Euclid Brewing Company opened its doors and Western Reserve Meadery finally launched its tasting room. Artisan food companies like Old Brooklyn Cheese Company and Cleveland Jam both planted brick-and-mortars. And don't forget the tacos: Camino, El Taco Macho and Taqueria La Loma all provided new outlets for the craze. Donning the chef's apron more your style? New markets like Nature's Oasis, Ohio City Provisions and Ipanema Brazilian Market all let you take the tastes home.
This guide takes you through some of the most exciting recent openings in the greater Cleveland area. Let us know where youare most looking forward to trying out.
As seen on CNBC, Photo courtesy of CNBC
Death, taxes and the supremacy of New York bagels.
There are three certainties in life — or so we thought.
On the latest episode of CNBC's reality business show "Cleveland Hustles," the owners of the Cleveland Bagel Co. flew out to the Big Apple to debunk everything we've ever known about boiled and baked circles of dough.
Bonin Bough, host of "Cleveland Hustles," facilitated a meeting with Chieh Huang, CEO of Boxed, and Elyse Burack, the company's senior marketing manager.
The goal was to impress them in a taste test and secure a national distribution deal with the bulk wholesale shopping company. It would be a massive growth step for Cleveland Bagel.
As seen in: The Huffington Post
In case you hadn't noticed, LeBron James is working hard to be more than just the guy who somehow stopped the Golden State Warriors and finally gave Cleveland another pro sports championship.
That's one reason it's worth paying attention to a new reality television show that James and his partner Maverick Carter have put together starting Wednesday at 10 p.m. ET on CNBC.
Called Cleveland Hustles, the first season pairs eight aspiring entrepreneurs with mentors in the business community. They have a chance to open a store in Cleveland's Gordon Square Arts District and compete for funding from investors, with the idea that they might eventually expand from a local shop to a wider brand.
best place to buy PregabalinAs seen on the front page of the Wall Street Journal
CLEVELAND—New Yorkers are brash champions of their bagels. Montrealers politely insist theirs are best. But there may be a bagel that is better than both in a place that isn't used to bragging about itself: Cleveland.
The bagel comes from the kitchen of the Cleveland Bagel Co., which is barely a kitchen at all. It is the backroom of a local pasta shop. That is where 300 dozen bagels are rolled every week by a former warehouse employee and a software executive without any hint of experience.